Post-Market Clinical Follow-up Plan
How to plan your Medical Device Regulation (MDR) Post-Market Clinical Follow-up (PMCF) evidence generation strategy.
What is a Post-Market Clinical Follow-up (PMCF) Plan?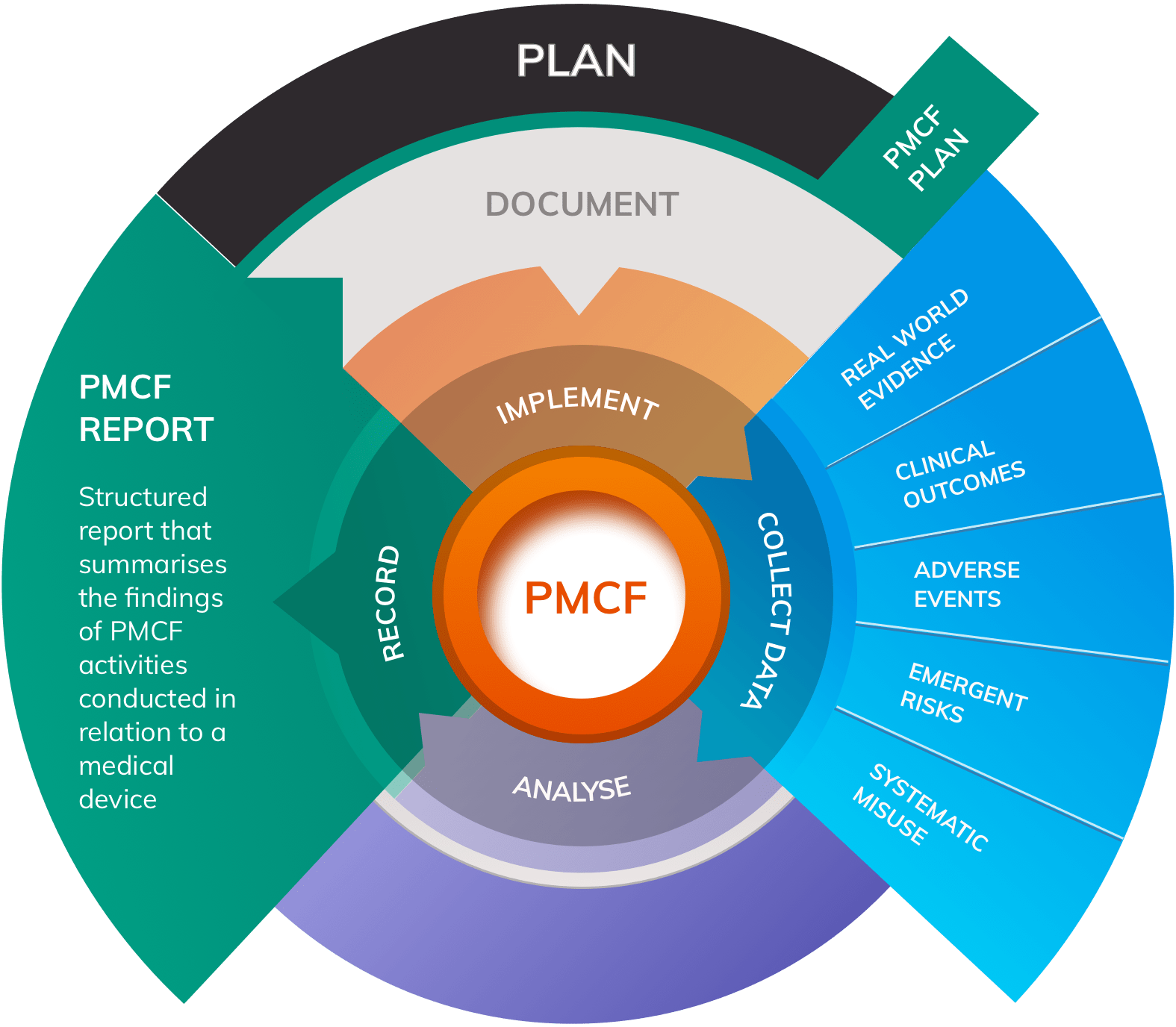 A PMCF Plan is an important technical document that outlines a method for conducting Post-Market Clinical Follow-up on a medical device. PMCF, in turn, is the process of proactively and constantly collecting clinical data in order to demonstrate that a CE-marked medical device's safety and performance is in line with expectations.
The Medical Device Regulation (MDR) 2017/745 greatly increases the importance of PMCF and outlines a detailed procedure for conducting PMCF in Annex XIV Part B. A specific requirement is that all manufacturers document a PMCF Plan to detail the process that will be followed in collecting PMCF data on each of their medical devices. A PMCF Plan must be submitted as a component of the Annex II technical documentation dossier required for regulatory approval of devices under the MDR.
What are the requirements for developing a PMCF Plan?
MDR Annex XIV Part B requires that a PMCF Plan must outline a detailed method for conducting PMCF. The PMCF Plan must specify how it will:
Confirm safety and performance of the device throughout its expected lifetime
Identify previously unknown side-effects
Monitor the rate and severity of known side-effects
Identify and analyse any emergent risks
Ensure continued benefit-risk acceptability
Identify any systematic misuse or off-label use
A PMCF Plan should be written in consultation with a clinical expert who has experience in designing clinical studies of the required standard. It should be remembered that a PMCF system must be capable of capturing data on use of a medical device throughout its entire lifetime, ruling out most standard-type clinical investigation designs.
The best PMCF Plans outline a method for generating Real World Evidence (RWE) that provides data on real, undifferentiated use of the product in the hands of genuine users "out there in the world". Standard clinical investigations tend to be too restrictive to meet requirements for PMCF under the MDR and will not run for a sufficient length of time to meet requirements for longitudinal data collection.
A Medical Device Registry is a very advantageous form of PMCF system that provides a single central repository of PMCF data captured from any number of different territories. Properly designed, a product registry ensures that data is generated in a consistent manner in compliance to a study protocol, and also ensures adherence to wider rules and regulations including the requirements for clinical investigations in Annex XV MDR.
Real World Evidence generation systems require specialist knowledge but can pay huge dividends through ensuring ongoing availability of data to support regulatory approval of a medical device throughout its commercial lifecycle.
Can Mantra Systems help you?
Powerful PMCF systems for your MDR compliance
Registries and surveys for your medical devices designed by our medical experts.
The PMCF Plan must include at least:
Details of general methods to be applied, e.g. gathering clinical data, user feedback and/or literature searching
Specific methods to be used, e.g. medical device registry
Rationale for chosen general and specific methods
A reference to relevant parts of the Clinical Evaluation Report (CER) that contain a summary of PMCF data, an appraisal of the PMCF system, and results of data analysis.
Specific objectives addressed by PMCF
Evaluation of clinical data from equivalent/similar devices, if relevant
Reference to any harmonised standards used in developing the PMCF Plan
Timescale of PMCF activities
It is important to account for all relevant laws and regulations when developing a PMCF Plan. In particular, the General Data And Performance Regulations (GDPR) establishes a strict set of standards for handling study subject's clinical data, and the PMCF Plan should establish procedures for ensuring that the requirements of this Regulation are adhered to.
Furthermore, it is important to consider whether PMCF activities may require ethical approval before data collection can commence. Requirements for ethical approval vary between different EU Member States so it is important to understand local requirements and ensure that the PMCF Plan incorporates procedures for meeting obligations.
What other guidance is available for writing a PMCF Plan?
The European Commission publishes a range of MEDDEV guidelines to assist manufacturers in meeting medical device regulatory requirements. MEDDEV 2.12/2 rev 2 "Post-Market Clinical Follow-up Studies - A Guide for Manufacturers and Notified Bodies" contains useful guidance for writing a PMCF Plan.
Call us now to discuss your MDR requirements:
Or send us your details and we will contact you:
MDR Consulting
Our team of medical professionals are specialists at building the clinical evidence portfolio that you need for MDR compliance of your products.
MDR Training
Our comprehensive training services are delivered by experts and address all aspects of MDR compliance.
Who we work with
Our clients come from across the industry and range from pre-start businesses to stockmarket-listed multinationals. We aslo have key strategic partners based in the UK and Denmark.
It was a pleasure working with you. We are completely satisfied with your service and look forward to working with you again in future.

CEO, EU medical software company

Your service surpassed our expectations and added value across our organisation. We now feel much better placed to prepare for the MDR.

Chief Executive, MedTech pre-start

A comprehensive, detailed and highly professional service.

Regulatory Manager, UK device manufacturer
International

We work with medical device manufacturers based in the UK, Europe, the US and Asia, developing MDR strategies for both physical devices and software as a medical device.

Diversified

Working with us gives you access to our growing international team of MDR-trained healthcare professionals from a wide variety of clinical backgrounds.
Download our free Mastering the MDR White Paper — An easily digestible summary of the EU MDR
FAQs
We have compiled some of our frequently asked questions. If you'd like to know anything else about what we do, feel free to ask us a question.
We can work with the majority of medical device manufacturers seeking compliance of their devices in accordance with Regulation (EU) 2017/745, including both hardware and software devices. We also offer a free, no-obligation consultation, so please feel confident about discussing your requirements with a member of our team.

No. We will work with you to produce systems and to support your EU MDR compliance, but we do not conduct research ourselves. We will provide tools for you to conduct your own Post-Market Surveillance. Our range of services are designed to assist you in this matter.

Yes. We adhere to the highest standards of professionalism and regard maintaining confidentiality and data security as a cornerstone of our practice. We also comply fully with the requirements of GDPR.

Our services are built around a strict quality framework and we only work with clients who share this commitment to quality. Our CEO is a medical doctor with years of experience in the medical device industry and assumes personal responsibility for every project. Our product development process integrates client feedback throughout product production, ensuring a constant focus on your needs.

We work with clients of all sizes and at all stages of their regulatory compliance journey. Our team are here to help and are happy to respond to general enquiries, even if you don't feel like you know where to start. We are experts at 'tuning in' to your requirements and will guide you through the entire process. Our free MDR Compliance Guide and suite of MDR downloads stand as proof of our commitment to help you understand your obligations under the MDR.

Yes. Software as a medical device is an increasingly-important segment of the medical device market. We have extensive experience in building regulatory systems for medical software and offer a special application of all our MDR services for software products. We also offer unique downloads and white papers that focus specifically on software as a medical device.

At its core, working with the MDR is about working with clinical evidence. Whether you need to generate evidence for PMCF, analyse data for writing a CER, or build an MDR-ready PMS system, our medical experts have the clinical acumen to ensure that your clinical evidence is produced and interpreted with the highest levels of professionalism. Medical professionals work with clinical evidence all day. We bring their specialist capabilities directly to your MDR strategy.

We believe in transparency and aim to build long-term relationships with our clients. This commitment is demonstrated by our customer-focused pricing strategy. You pay a small deposit upfront, only paying the balance when the work has been completed to your total satisfaction. For higher-value projects we offer flexible payment packages on an individual basis — please contact a member of our team to find out more.

Yes. Our unique business model allows us to scale to accommodate almost any amount of work. Many of our medical professionals remain clinically active, meaning that we have trained more than we presently need. This system allows us to have ready availability of redundant capacity that can be called upon in the event of a surge in demand. Whatever your requirements, our unique business model allows us to step in faster than any of our competitors.
Do you have any questions about our MDR services?