Post-Market Clinical Follow-up within the medical device industry
A guide for learning the Post-Market Clinical Follow-up (PMCF) procedure for medical devices (meddev 2.12).
What is Post-Market Clinical Follow-up (PMCF)?
Post-Market Clinical Follow-up (PMCF) is the process of proactively and continually collecting and evaluating clinical data on the safety and performance of a CE-marked medical device throughout its entire lifetime. According to Annex XIV Part B of the MDR, objectives of PMCF are to collect and use clinical evidence in order to:
Update the Clinical Evaluation
Ensure continuing acceptability of benefit-risk profile
Detect any emerging risks and previously unknown side-effects
Confirm safety and performance of the medical device
Identify any systematic misuse of the device
A PMCF system under the MDR requires a different approach to that used when designing 'standard' clinical investigations. Designed appropriately, a PMCF system under the MDR will produce Real World Evidence (RWE) that:
Captures data from a study population that represents the entire population normally exposed to the device
Is non-comparative, focusing only on the safety and performance of the subject device rather than making comparisons between different devices
Does not involve experimental exposure; rather, it studies the use of a device that is already CE-marked and seeks to confirm or refute that it meets the necessary safety and performance requirements.
Recruits an unlimited number of patients over time and runs indefinitely
Is conducted at all types of clinical site and does not select for centres of excellence of other sites that may be unrepresentative or positively biased towards better results
The PMCF procedure required by Annex XIV Part B of the MDR involves documenting a PMCF method in a PMCF plan, collecting data in accordance with that plan, and then documenting the results in a PMCF evaluation report that will form part of the Clinical Evaluation Report (CER) for the device.
Can Mantra Systems help you?
Powerful PMCF systems for your MDR compliance
Registries and surveys for your medical devices designed by our medical experts.
How does PMCF relate to Post-Market Surveillance (PMS)?
PMCF is often incorrectly confused with Post-Market Surveillance (PMS) and it is extremely important to understand that the two concepts, while related, are not the same. PMCF is a component of any effective medical device PMS system but it is vital to recognise that the two terms are not interchangeable.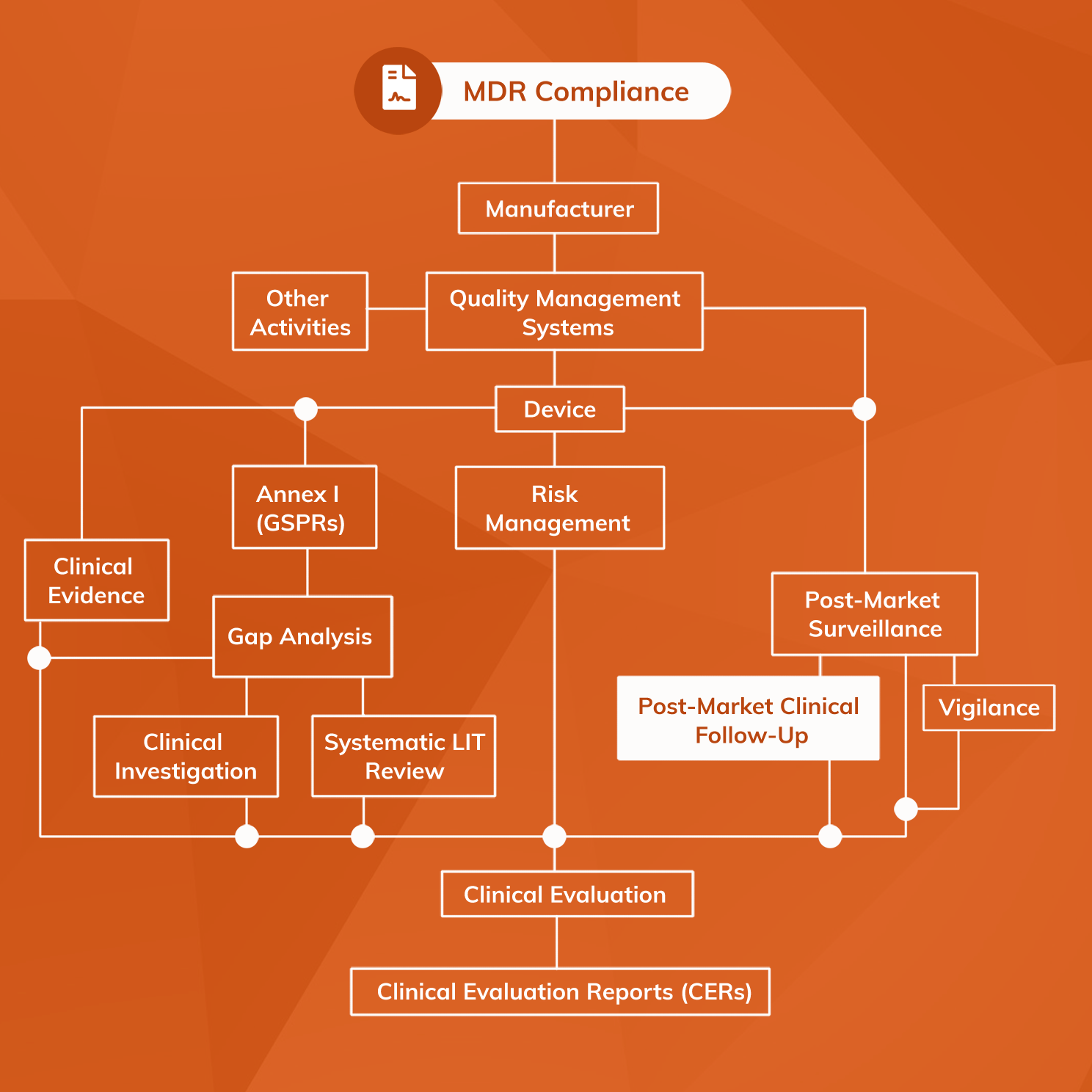 PMS is a broad process that is part of the organisation's Quality Management System (QMS). PMS encompasses PMCF but also captures and analyses data from wider sources that work in a different way to PMCF, such as Vigilance systems. While PMCF is a proactive and planned data collection process, Vigilance systems function reactively in order to collect data on any serious incidents and complaints that may occur in relation to use of a device. While PMCF will always return some data, it is theoretically possible that a vigilance system would return no data — for example, if the device worked flawlessly and resulted in no complaints, adverse events or serious incidents.
How do you create a suitable Post-Market Clinical Follow-up Plan?
Creating a suitable PMCF Plan requires a combination of regulatory experience, clinical expertise, and familiarity with relevant legislation and guidelines. Although Annex XIV Part B of the MDR outlines the substantive requirements of PMCF systems, being aware of and working with appropriate supporting guidelines can be of great assistance in producing an MDR-compliant PMCF strategy.
The MEDDEV range of guidelines, published by the EU Commission, can be invaluable in meeting the requirements of the MDR. The relevant guideline for PMCF is MEDDEV 2.12/2 rev 2. This MEDDEV guideline covers a range of topics including:
When a PMCF study is indicated
What is required in a PMCF study
How to use study data
The role of Notified Bodies in working with PMCF data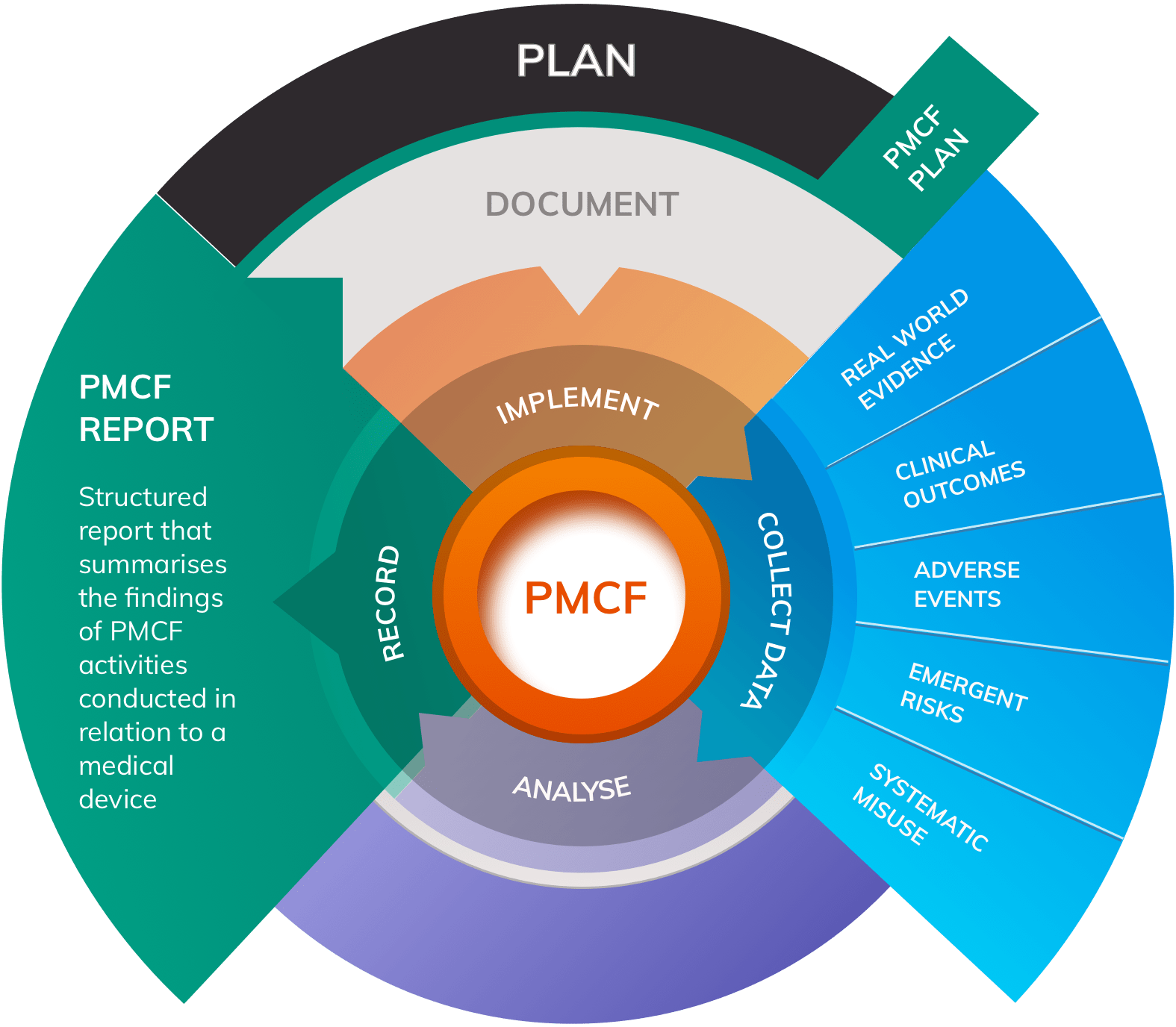 MEDDEV 2.12/2 rev 2 was produced in reference to requirements under the out-going Medical Device Directive MDD 93/42/EC and has not yet been updated to meet the specific requirements for PMCF imposed by the MDR. Nonetheless, it serves as a very useful starting point in designing a PMCF strategy.
Refining the guidance in MEDDEV 2.12/2 rev 2 into an MDR compliant PMCF strategy requires clinical expertise, an understanding of how to drive subject recruitment at clinical sites, and detailed familiarity with the MDR requirements for designing clinical investigations in Annex XV. It also necessitates a high level of understanding of handling subject data to meet the obligations imposed by GDPR, and construction of a secure data handling and storage system.
Why you should not use templates
Given the stringent requirements for PMCF under the MDR, some manufacturers are tempted to use ready-made templates in order to design their PMCF strategy. While superficially much easier than learning to understand the requirements in detail, using a template can be a serious mistake that can lead to exorbitant retrospective costs.
PMCF systems must be designed around the characteristics of the specific device in question — methods of data collection, subject type, subject number, data points and follow-up frequency will all differ markedly between devices and clinical situation. Furthermore, PMCF systems will need to be entirely different in structure for devices in different risk categories.
Even assuming that a template could deliver a PMCF strategy that was suitable for a specific device, it would still be necessary to produce a clinical investigation structure and associated documents that meet the requirements of Annex XV MDR as well as GDPR and extended legislation. Finally, it would also be necessary to devise a strategy to promote compliance with data collection at clinical sites, navigate requirements for ethical approval (as required), and ensure hospital administration department sign-off.
A PMCF Template is no substitute for a thorough understanding of PMCF requirements and an experienced approach to design and implementation of PMCF studies.
Call us now to discuss your MDR requirements:
Or send us your details and we will contact you:
MDR Consulting
Our team of medical doctors are specialists at building the clinical evidence portfolio that you need for MDR compliance of your products.
MDR Training
Our comprehensive training services are delivered by experts and address all aspects of MDR compliance.
Download our free Mastering the MDR White Paper — An easily digestible summary of the EU MDR
Do you have any questions about our MDR services?