Post-Market Surveillance (PMS)
Learn how to successfully utilise Post-Market Surveillance and how the EU MDR changes it for medical device manufacturers.
What is Post-Market Surveillance (PMS)?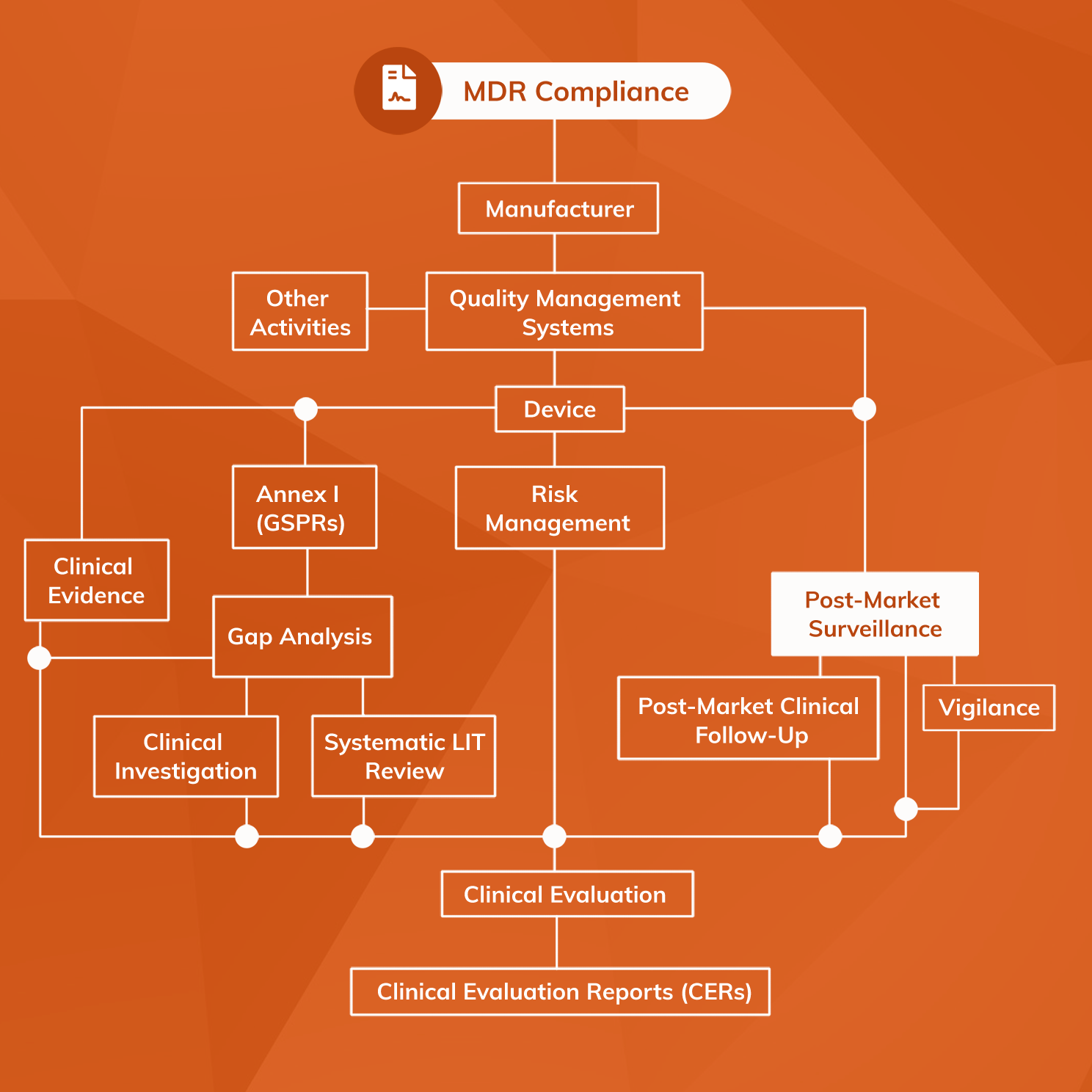 Post-Market Surveillance (PMS) can be defined as a structured process of monitoring the safety of a medical device following its release onto the market. It involves the proactive collection and review of data relating to clinical experience with the device.
Effective PMS requires a combination of processes and systems that work together to develop a robust 'picture' of how a medical device is performing in real-world use following its commercial release.
The MDR builds upon previous requirements for PMS systems in medical devices to mandate the provision of a PMS framework for every medical device that is proportionate to its risk class and appropriate for device type.
What are the MDR requirements for Post-Market Surveillance?
Article 83 outlines the MDR requirements for PMS systems. Every manufacturer is required to plan, establish, document, implement, maintain and update a PMS system for every medical device. The system must be designed and documented in a PMS plan and then constantly updated according to a structured assessment of how well it is working and the data it has yielded.
Article 83 requires that data generated by PMS systems is used in specific ways; in particular it should be used to:
Update the benefit-risk analysis
Feed improvements to Risk Management
Update device design, Instructions For Use (IFU) and device labels
Update the Clinical Evaluation
To identify needs for PACAs or field safety corrective actions (FSCAs)
How is Post-Market Surveillance used to monitor medical devices?
A well-designed PMS system can be thought of as monitoring the performance of a medical device in two complementary domains:
Field Safety Corrective Actions (FSCAs) launched in response to a serious incident are also a component of a PMS system, as are Field Safety Notices (FSNs) that communicate the outcome of FSCAs to users in the market.
PMCF requires the assessment of the clinical performance of a medical device throughout its entire lifetime. For this reason, systems that are able to generate Real World Evidence (RWE) are a valuable approach to conducting PMCF of the required standard.
Can Mantra Systems help you?
Complete PMS systems for your medical devices
Post Market Surveillance services for EU MDR compliance of your medical devices.
Full / modular service
Tailored development
Ongoing maintenance
Technical documentation
What documents are required for MDR PMS?
MDR Annex III details requirements for technical documentation relating to PMS.
All MDR PMS systems require a PMS Plan that describes how data will be collected and used from a range of different sources including:
Serious incidents
Field Safety Corrective Actions (FSCAs)
Complaints
Databases and/or registries
Feedback and complaints
The PMS plan must contain the following aspects:
A documented process to collect information from the above sources
Methods to assess collected data
Rationale used during risk analysis
Methods for collecting and investigating complaints and analysing trends
Methods for communicating with competent authorities and notified bodies
Methods for tracing devices
Additionally, a PMS output report must be produced in relation to each device. The format of this report varies according to the device's risk class.
For Class I devices a comparatively simple PMS Report is required that simply summarises outcomes from PMS activities relating to the device.
For all other device classes a more detailed Periodic Safety Update Report (PSUR) must be produced with a periodicity that varies according to risk class (at least annually for Class III).
What is MedDev 2.12/1 Rev 8 and MedDev 2.12/2 rev 2? How are these used within PMS?
The European Commission produces a range of guidance documents, known as MedDev guidelines, in relation to medical device regulation. MEDDEV guidelines are not legally binding but are a very useful source of information when developing PMS systems and when working towards compliance with other aspects of medical device regulation.
MedDev 2.12/1 Rev 8 provides guidance on medical device vigilance systems and MedDev 2.12/2 rev 2 details guidelines for PMCF. Although neither has yet been updated (as of June 2020) to reflect changes introduced by the MDR, they are still extremely useful documents. A combination of familiarity with the content of the MedDev guidelines along with the content of relevant sections of the MDR will form the basis of an ability to develop an MDR compliant PMS system.
Call us now to discuss your MDR requirements:
Or send us your details and we will contact you:
MDR Consulting
Our team of medical doctors are specialists at building the clinical evidence portfolio that you need for MDR compliance of your products.
MDR Training
Our comprehensive training services are delivered by experts and address all aspects of MDR compliance.
Download our free Mastering the MDR White Paper — An easily digestible summary of the EU MDR
Do you have any questions about our MDR services?